After months of planning, talking about, and getting people engaged in your survey, it's finally time to share the results with your staff. We've talked about designing surveys, tailoring questions, and increasing response rates in recent articles, and now we're ready to discuss building a strategy for results dissemination. It might seem easy to dismiss this step, but I would argue that dissemination is one of the most important parts of the process.
This is where businesses really get their return on investment. Your survey is not only a valuable tool in helping leadership understand the problem areas, next steps, or goals. It's also about helping employees see the whole picture, validate their opinions and experiences, deepen their relationship with the company, and prepare them for what's next.
---
What to consider when sharing survey results
Who you're talking to
Ideally, you've already gotten survey buy-in from stakeholders across the organization who look forward to seeing the results. Considering the distinct types of audiences in your organization will help define unique approaches to dissemination that best meets employee needs. Ensure that your dissemination strategy covers all parties, and every employee can learn about the results.
Your approach
After you've considered your audiences, think about the best ways to meet them where they're at. Consider your medium, the language that will be used, and the visuals you'd like to share. One slide deck might not be right for all audiences.
A helpful step in this process is to consider the purpose of each communication. You want to inform employees of what you learned, and more importantly, you want to tell them what you're going to do about it. Setting clear expectations for next steps increases the likelihood of engagement and action from your employees. Each step of the process should clearly and intentionally lead to the next.
Timing is also important. Aim to share your results quickly and efficiently so that your data stays relevant. Try to avoid scheduling additional meetings and take a step back from standing meetings if necessary. Make survey dissemination a priority.
---
Here's how dissemination might look for your organization
Remember that every organization is different, and this is not a one-size-fits-all model.
Step 1: Report on initial findings
This is a chance to show your work and tweak the verbiage used to describe results, with the goal of keeping subsequent discussions relevant and meaningful. Summarize key themes that have emerged from the results and explain the rationale and data behind each theme. The results have a degree of malleability at this point.
Audience: core survey team
Medium: slide deck presentation
Content: summary of overall results, emergent themes, comparisons to past results, comparisons across groups (e.g., departments), and create (or update) a timeline for next steps
Step 2: Executive Summary Presentation
Executives want a high-level summary of key themes. This presentation should include overall results for the organization and highlight any significant bright spots or red flags found in segments of the organization. The results should generally be solidified at this point.
Audience: executive team
Medium: presentation
Content: summary of overall results, key themes, significant comparisons to past results, significant comparisons across groups (e.g., departments), and approve (or create) a timeline for next steps
Step 3: Next Level Down Presentation
This step ensures the next level of leadership hears the same message at the same time. Eventually, this group of leaders will receive detailed results focused on their own span of control. This presentation, however, is usually focused on overall results.
Audience: directors and managers
Medium: presentation
Content: summary of overall results, and finalized timeline of next steps
Step 4: All-staff global summary
It is common for several weeks to have passed since employees filled out their surveys at this point. The driving motivation for this step is to share results with employees as soon as possible, but only after leadership has heard enough about the results so as to not be caught off-guard.
Audience: all employees
Medium: posters, infographics, recorded video presentations, or town hall presentations
Content: high-level summary of overall results (may need to have several options based on audience, schedules, and availability), including a timeline of next steps for leadership and employees
Step 5: Detailed reports for team leaders
Leaders and staff will be eager to learn about the results from their own area. This step provides leaders with the data they need to create an action plan that is the most meaningful for their team.
Audience: various levels of leadership
Medium: PDF report
Content: detailed report that equips leaders to have conversations and answer questions– consider using a guided waterfall approach
---
Guided Waterfall Approach
In this approach, results flow downward from leader to leader. Direct conversations are at the center of this approach, enabling each employee to understand the results, feel supported, and prepare for what's next.
Survey data is a powerful tool for having conversations that lead to action, and the conversations about the data are often more valuable than the data itself.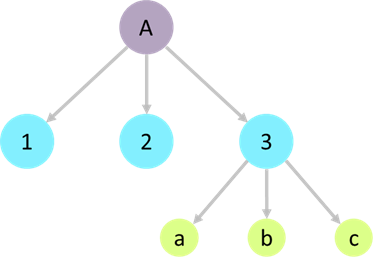 In this approach, Leader A receives a report that includes results from each leader/area reporting to A. In this case, those are 1, 2, and 3. The intention here is not to compare 1 and 2, but to understand the unique strengths and challenges for each group in A's purview.
Leader 3 also receives the reports for a, b, and c and it is their responsibility to share and discuss each report with those leaders. The pattern continues.
This is a "guided" waterfall because leaders have support in these conversations. This ensures results are shared in a consistent way across the organization, and it saves leaders the time of preparing a framework for the conversation. It also makes it easier to collect and understand major discussion themes across the organization, which both employees and executive leadership will want to know. Support can come in many forms, such as:
Conversation guide

Provides standard questions to explore

Could supply a form to document the conversation after it occurs

Ensures next steps are in place (by filling out the documented form)

Co-facilitation

This approach to support can be a logistical challenge but will likely have greater impact on employee engagement and ROI.

Options for facilitators:

Someone from People and Culture Team

Member of Culture or Advisory Team

Facilitators could also adjust by reporting level, based on what is manageable for leaders and employees.

Benefits of this approach

Immediately recognize and help connect themes from other conversations

Answer questions about the process itself

Helps funnel top concerns back to executive leadership

Provides a third party to navigate issues between supervisors and reports

Ensures message stays consistent

Provides subject-matter (culture or survey data) expertise
---
It's Go Time
Now that you have built a dissemination strategy, it's time to share your results. Your employees are eager to hear what you learned. Capitalize on that momentum so that you are heading into action planning with an engaged team who is ready for the future. If you need more support, please reach out!