Mergers and acquisitions are stressful. You can spend months or years planning for a change, but when it comes down to it, the transition will be challenging. And that's okay. In fact, at illumyx, we argue that the chaotic and out-of-sorts feeling among employees means that it's working. The friction you see is a sign that people are figuring out new norms and expectations, and it's important that you let it happen.
Let's dive deeper.
River of Integration
Dr. Dan Siegal, an esteemed clinical psychologist and professor at UCLA, created the concept of the River of Integration. It can be used for life transitions such as marriage or moving in together, but in this case, we use Dr. Siegal's concept to make sense of the integration experience of mergers and acquisitions.
In this analogy, the river is the change the organization is experiencing, and the edges and rocks are the rigid dynamics and norms of each organization. The model illustrates the challenges employees experience when integrating. The vertical axis highlights the process of integrating new information. When employees struggle to integrate new information, it can result in a sense of overwhelm and disorder. The horizontal axis highlights the process of integrating a new identity. When employees struggle to feel a sense of belonging and connection to a new company, it can result in rigidity or polarization, especially if their identity is strongly tied to their original company.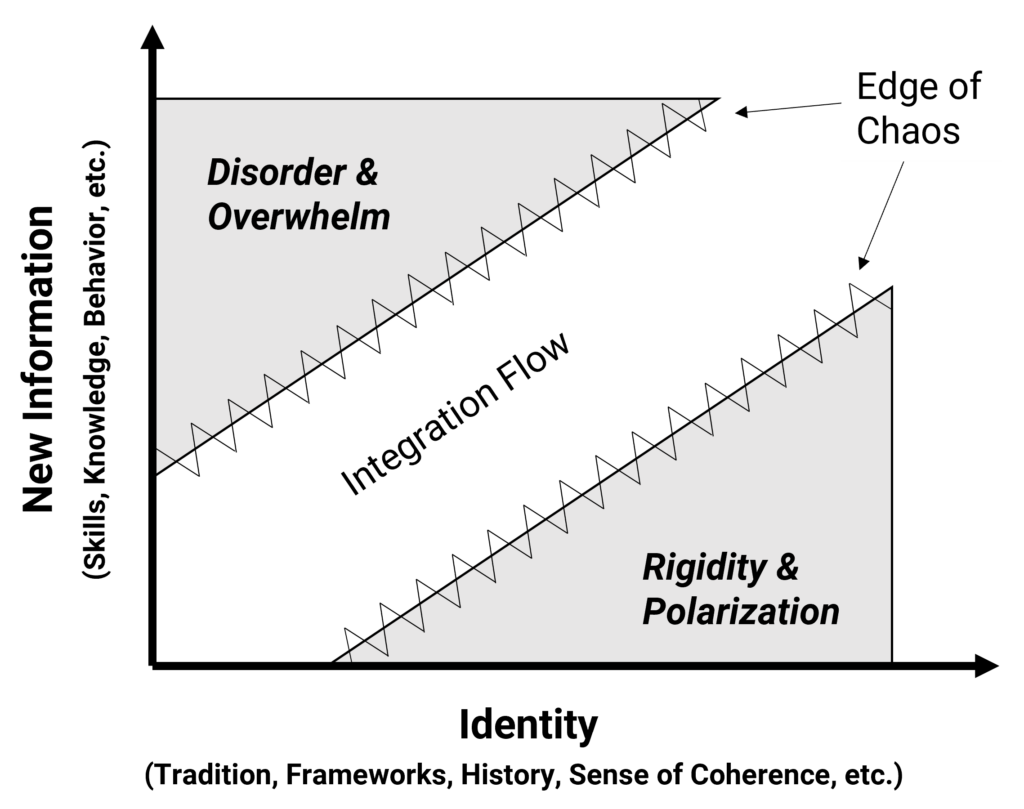 Adapted from: Siegal, D. (2009). Mindsight: The New Science of Personal Transformation. NSW, Australia: Scribe Publications.
Moving through the Rapids
During an acquisition, employees are asked to learn new processes and systems. This is especially true for smaller companies that are acquired by larger ones. It makes sense for the smaller organization to adopt the ways of the larger one, but it often leaves employees feeling that the new skills, information, and systems can't be learned quickly enough. Work keeps coming (and maybe even faster than it did before), but employees feel like they no longer know how to do their jobs. Employees who feel overwhelmed and uneasy tend to release their frustrations on their new coworkers, leaders, or in the worst-case scenario, the customers.
Additionally, the leadership roles may have changed, so employees don't have the same people resources. They no longer know where to go when they have problems or questions, and they're feeling stressed out and isolated.
It's important to note that the M & A process often feels personal to the employee. When we've been with a company for a while, our work naturally becomes part of our personal identity, and we are emotionally invested in the role we play in the company's success. When a business gets acquired, that identity gets rattled. It feels as if the hard work and commitment to the company are being discarded, and that makes the employee want to rebel. Naturally, polarization occurs between the employees of the two formerly separate organizations, and it seems like the merger is doomed.
Following the Current
But there's hope! The River of Integration model is about embracing chaos and letting it flow as a normal part of the process. Don't drown yourself in trying to fix all the issues that arise. You can't avoid the rocks and edges of the river, but you can help the process flow freely with these suggestions.
Establish a vision
During a transition, leaders have the opportunity to create a shared vision about where the company is going and the career opportunities it provides and generate excitement across both organizations. This is most effective before changes occur so that leaders can point to the vision when employees are feeling frustrated. Creating a supportive culture and unified vision right out of the gate helps employees weather the challenges ahead.
Slow down
When you notice employees getting frustrated, take some time to empathize and understand. Let them know that you're grateful for them and their work in the company. Share this model with them to normalize and put context around their frustrations.
Validate their frustrations with the new processes and systems and educate them on why change is necessary. Reassure them that they do good work, but it no longer meets the needs of the larger organization.
Give them an out
Sometimes employees realize that working for a larger organization just isn't for them. They've built their skills and identity on a smaller scale and that's where they prefer to stay. And that's okay. This is an opportunity to help them better understand their professional identity and how it fits into the newly acquired organization (or maybe it doesn't). Empowering them to make the best choice for themselves helps them feel cared for and understood.
Whether you're fully submerged in the River of Integration or about to get on the boat, illumyx is here to help. We've seen many companies and employees through mergers and acquisitions, and we're confident that we can meet you where you're at and help set you up for success. Reach out today.