At illumyx, we often talk about businesses like they are people. Businesses go through developmental "life stages" based on where they are in their journey, and priorities and functions change as the organization moves through these stages. A seminal thought leader, Ichak Adizes, created an organizational development model that organizes those priorities into 4 key business functions that we'll explain below. Understanding the business functions, and how they play into an organization's life cycle, can help leaders make sense of what's happening in their organizations and prepare them for what's next.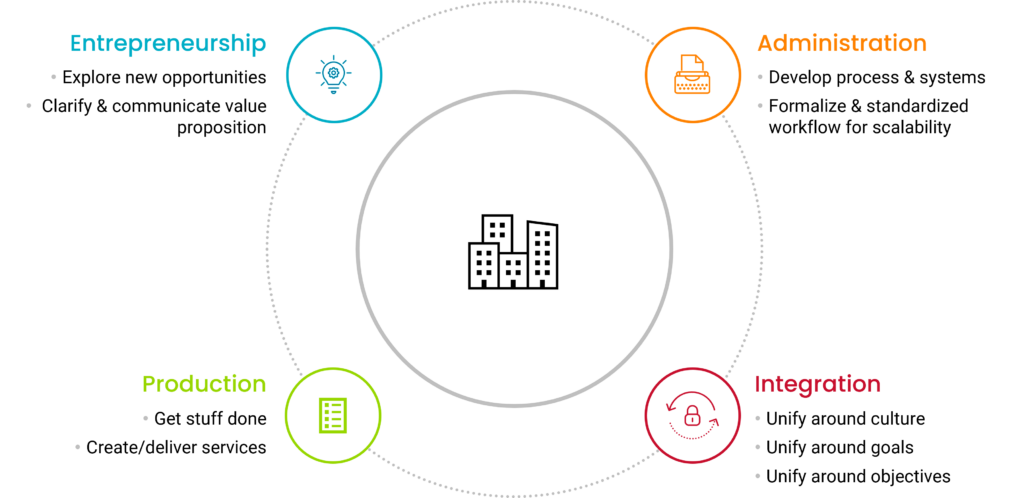 4 Key Business Functions
Entrepreneurship
The entrepreneurship function of a business is the source of its creativity and innovation. When a business is in the early life stages, the entrepreneurial priorities are driven by the founder. They have a vision and make it happen. New opportunities and product offerings arise, and the value proposition is clarified and communicated to staff and customers. Entrepreneurship remains important from the beginning through their prime.
Production
Once the vision is in place, it is time to execute. The production priority is all about producing, creating, and delivering products and services, and getting stuff done. This is the money-making function, where employees are creating consumer products to meet the increasing demand as the business grows.
Administration
This function usually comes into play as companies grow. In the early stages of development, the administration function feels less important. With fewer employees, businesses are focused on making things happen by any means necessary. However, that only works for a limited time. As product demand increases, the workflow needs to be standardized. They need processes and systems to get consistent results, and people to manage those systems.
Integration
Integration is about growing and retaining talent. This is where culture, development plants, and benefits come into fruition. As the company grows, employees tend to be less invested in the mission (unlike in the beginning where they are working toward a common goal). The integration function encourages employees to stay with the company by creating unity around the organizational culture, goals, and objectives.
Bringing it all together
So why does this matter? These business functions come into play at various times during a business' life cycle. And life cycles are helpful to understand what a business is experiencing and why.
At illumyx, we use surveys to help organizations diagnose where organizations are developmentally and uncover what they need to grow into a healthy "adult" organization. If survey results are less than favorable, it's often due the life stage that the organization is in. It's normal for employees to feel frustrated or unhappy in various stages, but it's also a necessary part of the business evolving to the next stage.
If you understand the business functions and how they play into the life cycle of your business, it makes it easier to support employees during times of discomfort, and understand that, with patience, guidance, and empathy, the uncomfortable phases pass with time (ideally). It is possible to get stuck in arrested development and "age" prematurely, but we'll unpack that more in our next article. Whichever life stage your company is in, illumyx is here to help. Together, we'll define your developmental stage and set you up with the tools to keep moving forward. Do you need some support? Reach out today.